It is no secret that we love flags. I mean, it was the basis of starting our sock company born on an idea that a state flag can represent a person and can tell a story. If you are a transplant like myself, tell me you don't swell up with pride when you see your state flag somewhere in the wild and have visions and memories of the place you once lived. As a current Michigan native, every time I see the California state flag (which is more often than one would think however, not often enough), I am immediately transported back to my days living in San Diego and growing up in the Sacramento area. I am proud to be from California and the very idea of seeing this symbol of my past gets me excited.
All may have state pride; however, I must admit, not all flags are created equal. Yes, we are looking directly at you Minnesota. You guys could do with a redo. That being said, I wanted to come up with a list of my top 10 favorite state flags. This goes based off aesthetics, how recognizable it is, and my personal opinion and yes, a tiny bit of bias. So, let us begin…
#10 –  Texas
If you have ever been to Texas, you will know that this flag is flown as much if not more than the US Flag. Not sure where they get them from, but they also make some of the biggest flags I have ever seen when driving across the state. You see this flag and instantly recognize Texas, and going off their state nickname, "The Lone Star State", they designed their flag appropriately. Fun fact! the designer of the Texas flag is unknown.
#9 – Virginia
This is based mainly on the irony. The unofficial state slogan is "Virginia is for lovers", yet they have the only flag where is appears as if a murder scene is happening. The symbolism is supposed to convey conquering tyrants (yay freedom!), but I like to think this lady of liberty completed owned this guy. Fun fact! One of the four designers of the flag was George Wythe, one of the signers of original signers of the Declaration of Independence.
#8 – South Carolina
Simply put, this flag puts in vacation mode. With the palm tree (or palmetto tree), it has me wanting to book a flight to Myrtle Beach. Clean looking flag with only two colors, it was also easy to create the sock version. Fun fact! The palmetto tree featured is also the state tree of Florida.
#7 – New Mexico
The only straight yellow flag, this flag is bold. Simple and easily recognizable and I love when I see it on hot air balloons their festival. The symbol is an ancient Zia sun symbol used by Zia Indians of New Mexico, so ties in greatly with symbolism, with several deeper meanings of the four points. Fun fact! This flag is one of four state flags not to include the color blue (California, Maryland and Alabama).
#6 - Ohio
What I love about this flag is the uniqueness of it. The only flag of the 50 not to be rectangle, however, having 5 sides. It also uses the same pantone colors as the American flag. If only this state didn't have that one college football team… Fun fact: this flag has 17 stars to symbolize becoming the 17th state in the union.
#5 - Tennessee
Just a great looking flag that I see represented often. And can one go to Nashville without taking a picture at the flag wall mural? Fun fact! The Tennessee flag was used in the movie "Animal House" when they couldn't find a Pennsylvania flag large enough. I am glad for the change.
#4 - Arizona
Arizona is just one of my favorite states period. Year round sports and no winter put it on a short list of states I would love to live in. As far as the flag, I think it clearly represents the state by creating imagery of a desert, and having 13 sun beams come off the star is very patriotic. Fun fact! The center star signifies copper production as Arizona produces more copper than any other state in the country. 
#3 - Colorado
Another flag that is displayed proudly. It is hard to meet someone from Colorado who doesn't own a piece of clothing or a sticker on their car of this flag. So much thought and symbolism in this flag and found often even on their road signs. Fun fact! The letter "C" did not have size parameters until 1964 which led to many versions of various sized C's on flags. 
#2 - Maryland
When your flag is used in sports logos, you know you have done something right. I love seeing the Maryland flag displayed in Orioles and University of Maryland gear. Plus it just looks really cool. Fun fact! This black and yellow portion of the flag is actually the family banner of Cecilius Calvert, the founder of the colony Maryland and the second baron and Lord of Baltimore. 
#1 – California
As I mentioned, this is based off aesthetics, easily to recognize and my personal bias. The flag features prominently, the state animal: the California Grizzly. It is laid out beautifully and, in my opinion, the most easily recognizable of the 50 flags. How many clothing brands, shirts, hats, accessories, etc. have featured this design? Countless. Including ourselves. It represents the largest populate state and has done so in a beautiful way. Fun fact! This flag was designed by Abraham Lincoln's nephew. The more you know!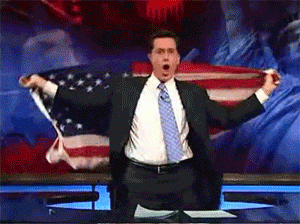 Well, there is it. My favorite 10 flags of the USA. Disagree? Let me know by sending me a tweet @TheStateMate.
Please reload